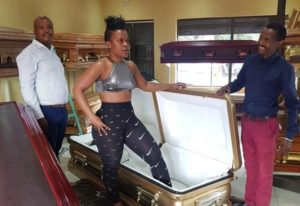 Shocking: Zodwa Buys Herself A 150K Coffin. She is taking the preparing for your future concept to a whole new level. When many are buying themselves cars and houses, Zodwa Wabantu is planning way ahead. The controversial entertainer has bought herself a coffin.
Her reasons, "I don't want Zodwa Wabantu was Famous now there's no Money to Bury her." Her gesture has left many of her followers reeling from shock.
The post Shocking: Zodwa Buys Herself A 150k Coffin appeared first on Youth Village.