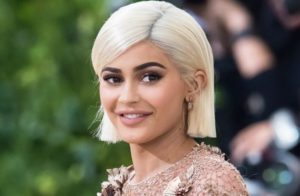 Kylie Jenner Dethrones Mark Zuckerberg As The Youngest Billionaire Ever. She has just made it in the wealth history books. At only 21, Kylie Jenner is declared the world's youngest ever self-made billionaire replacing Facebook's Mark Zuckerberg. Mark became a billionaire at the age of 23 while Kylie has reached the ten-figure fortune at 21 after her sales shot up to $360 million in 2018.
It has been reported that the celebrity entrepreneur who owns 100 per cent of her cosmetic range Kylie Cosmetics makes more money in two hours than most Americans do in a year.
Many though argue that Kylie is not self-made. They reason she has a rich father who is a former athlete, a rich mother, millionaire siblings, and an established profit making family brand that helped her success.
Congratulations to her hitting that Billie mark.