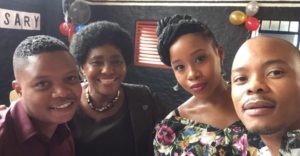 Isithembiso Teasers – February 2019. Coming up on Isithembiso this February 2019:
Friday 1 February 2019
Episode 220
It's time for new beginnings. Simi resolves to move on and Palesa makes a drastic decision.
---
Monday 4 February 2019
Episode 221
The start of the new University year brings new faces and new challenges to Santa Barbara.
Tuesday 5 February 2019
Episode 222
Palesa realises things have changed. Kero tries to deal with his new reality, as Ma Dolly deals with her dishonest niece.
Wednesday 6 February 2019
Episode 223
Vivian digs her claws into Kero. Ayanda learns the truth about Tshepo and Cheez swallows a bitter pill.
Thursday 7 February 2019
Episode 224
Cheez warms Palesa's heart. Nhlamulo makes promises he can't fulfil and Abedie's pay slip makes Oscar bitter.
Friday 8 February 2019
Episode 225
Palesa makes a life-changing decision. Simi and Zamani face some harsh realities. Nhlamulo gets a nasty surprise from Zoleka.
---
Monday 11 February 2019
Episode 226
Vivian and Cheez stand in Palesa's way. Nhlamulo can't get Zoleka out of his mind.
Tuesday 12 February 2019
Episode 227
Oscar and Abednego face off against management, Ma Dolly has plans for Ayanda.
Wednesday 13 February 2019
Episode 228
The workers strike causes disturbance, fuelled by Zoleka's ambitions. Ma Dolly softens as Ayanda engages with the word.
Thursday 14 February 2019
Episode 229
Palesa's mouth gets the better of her and Patrick offers the strikers a strategy. Simi faces family trauma once more.
Friday 15 February 2019
Episode 230
The strike spirals out of control, forcing Kero to take drastic action. Simi makes a decision that will affect her studies. Ayanda blows it with Ma Dolly.
---
Monday 18 February 2019
Episode 231
Nhlamulo faces off with his dad and Simi worries about her Gogo's health.
Tuesday 19 February 2019
Episode 232
Nhlamulo proposes a plan to help Abednego and Oscar. Young Tshepo schools Ma Dolly.
Wednesday 20 February 2019
Episode 233
Oscar and Abednego are saved. Sne has to make a difficult decision when Vivian presents her with an unexpected proposal.
Thursday 21 February 2019
Episode 234
Ma Dolly wants Anathi to be Ayanda's BFF. Diamond turns the screws on Zoleka. Oscar loves playing the hero.
Friday 22 February 2019
Episode 235
Oscar takes his war against management to the next level. Uncle Koloi comes down hard on Zoleka for getting caught. Anathi begrudgingly comes through for Ayanda.
---
Monday 25 February 2019
Episode 236
Kero makes a drastic decision to get Oscar and Abednego to return to the negotiations. Sne is presented with a moral dilemma.
Tuesday 26 February 2019
Episode 237
Uncle Koloi reveals his intentions for his family and Braamfontein. Peanuts shocks Kero with some difficult news. Thuli asks for Gogo's forgiveness, but will she grant it?
Wednesday 27 February 2019
Episode 238
Anathi makes a startling discovery about Ayanda. Vivian has a trick up her sleeve to make the Panther trend. Kero struggles to come to terms with Peanuts' decision.
Thursday 28 February 2019
Episode 239
Ayanda takes to the stage. Koloi forces Zoleka and Diamond to talk. Palesa wins one over Vivian and becomes the girls' heroine.
---
Isithembiso airs on Mzansi Magic from Mondays to Fridays at 19h30.
The post Isithembiso Teasers – February 2019 appeared first on Youth Village.